Why Custom Grocery?
We want to be your choice for expansion into the online grocery market. We have invested heavily in creating the best software in the industry, and we have built a team of individuals that have first-hand experience in developing their online grocery stores. With Custom Grocery's software, you will receive:
A Professionally Designed Website
Our designers are top notch and we guarantee an easy to navigate site and useable design. Already have a website? No problem - our software can seamlessly integrate into your existing website design.
25,000 Item Database
Don't have access to 25,000+ items to get your store off the ground, we have you covered. Save dozens of hours of administrative work by starting off with our extensive database of common, brand named groceries.
User Friendly Administrative Site
Our site content management system is extremely easy to use and can be learned in less than a day. No technical experience or knowledge is required. You will be managing your site and communicating with your customers in no time.
Exceptional Value at a Low Cost
We provide the highest quality product at a low cost and back it up with the best customer service in the industry. Our goal is to help your business grow. Your customers will enjoy our product, and we offer it at a price well within your budget.
Work with People In the Business
The Custom Grocery team has extensive "hands on" experience in growing an online grocery delivery business. Our insight and guidance is an invaluable complement to our product.
Client Base
We have clients of all sizes --- ranging from $25,000 to $1,000,000+ in annual sales. We continue to update our software with best practices in the industry and always share relevant advice to our clients.
Training Manuals
You will receive an illustrated, full training manual with operational guides that outline all functionality in your package. We also offer proven methods to market your new online grocery shopping service - including strategic advertising plans and promotional materials.
Free Upgrades
We are continually upgrading our software to add new features and improve it based on feedback from our clients and their customers. All upgrades are included.
24/7 Technical Support
You will be assigned an account manager that will oversee all aspects of getting your store online. They will also assist with implementation issues and support. Your account manager, along with our support team, are available by phone or email 24 hours a day, 7 days a week. Someone will always be available to answer your call.
Please contact us to
learn more
.
Client
Spotlight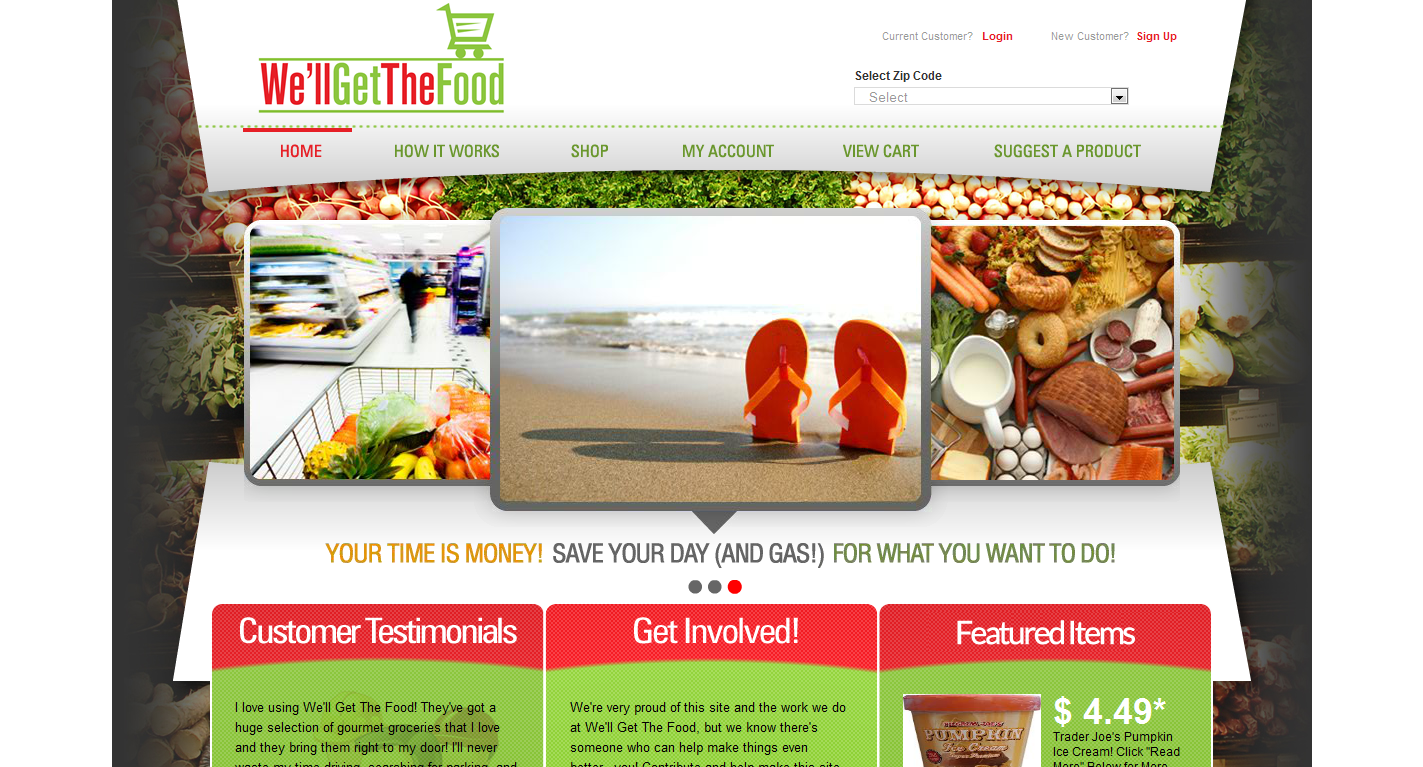 Wellgetthefood.com
was looking to venture into the online grocery shopping and delivery industry without committing significant capital up front. Custom Grocery built a high quality website and supplied Wellgetthefood.com with the tools necessary to start and grow for less than $2,000 up front. Visit their
website
to see what Custom Grocery could do for you.